Sponsorship Opportunities
A very wide range of sponsorship advertising, marketing and promotional opportunities are available throughout the season with prices suitable for all budgets. These provide a very powerful and cost effective opportunity to promote your business.
Sponsorship proposal for 2021/22 Season
During the lock-down, Kenny Moore, our Commercial and Sponsorship Manager, has been working on some exciting sponsorship opportunities for the new season. We will be promoting these over the coming weeks as more is known about how the season will be structured and run. The first of these packages is featured below. We understand that we are currently living through uncertain times, but if individuals or their businesses feel able to commit to the package at this time – your support would be significant to the Club and very much appreciated.
• Email marketing & campaigns to club database throughout the year
Database of over 3,000 members and players
• Feature on RPFC website & full company description
• Social media support across all channels throughout the season
Twitter, Instagram, Facebook & YouTube
• Branded pitch board located around the venue
6m x 2m board designed and produced by club for the full year
• Table of 8 guests including 3-course meal for one home game of the season
Home game of choice, including 3-course meal & car parking spaces
• Hire of the club/venue free of charge
This can include both pitch and clubhouse for one full day
Cost: £2,000 + VAT per season
For an additional £1,000 + VAT
• Company branding on Men's 1st XV playing kit
National exposure throughout the year
Dugout and Stand Sponsorship
Our main stand and new dugouts are available to sponsor for the new season.
Sponsorship package includes:
Company logo and name on the stand or dugout
10 tickets to home game of choice
A5 Match Day Programme advert
Company branding on RPFC Website and Newsletters
Please contact Kenny Moore our Sponsorship Manager: kenneth.moore@rosslynpark.co.uk for more information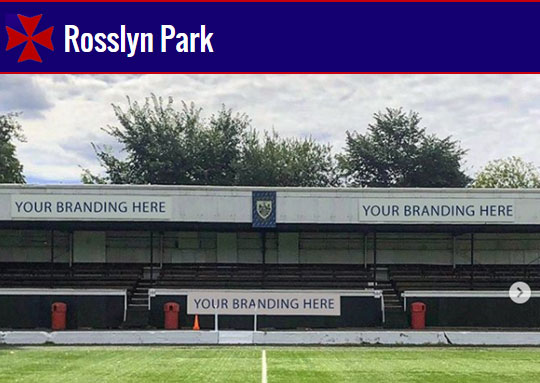 Player Sponsorship
A great opportunity to be linked with a Rosslyn Park player and to follow his progress throughout the season.
PA announcement when your player scores a try
Company logo/name against player profile in match-day programme
10 tickets for a 1st XV home game of your choice
Cost: £400 + VAT per player
Digital Marketing
The Rosslyn Park website, database, Facebook, Twitter and Instagram all represent a large and fast growing audience with targeted engagements.
These platforms allow opportunities for companies to build bespoke and extremely cost effective packages and are a great ways to interact with our supporters and social media followers instantly. Our social media not only provides the latest Rosslyn Park tries and score lines but also highlight your companies involvement at the club.
Please contact Kenny Moore, our Sponsorship Manager, via email: kenneth.moore@rosslynpark.co.uk or phone: 0208 876 1879 to discuss how sponsorship at Rosslyn Park may fit with your own promotional plans.
MATCH DAY SPONSORSHIP
Get in on the Action
As the official Match Sponsor of a Rosslyn Park First XV game, you will host your guests in our newly refurbished Clubhouse.
Before the game you will sample our excellent hospitality with a VIP lunch courtesy of our in-house caterers. Afterwards you and your guests will have the chance to meet Rosslyn Park players and present the Man of the Match award, the photo of this presentation will feature in the following Match Day Programme.
Meet the Players
Your company will be featured on the cover of the programme, and you will have a full page advert inside. You will also receive PA announcements throughout the game.
Finally, you have the opportunity to distribute promotional flyers in the Clubhouse and around the ground to advertise your business to all of our spectators and members on the day.
Full Package Includes:
Front Cover Programme Branding as the Official Match Day Sponsor
PA Announcements throughout the afternoon
VIP Lunch for 10 for guests prior to the game
Man of the Match Presentation after the game
Photo of the Man of Match Presentation to appear in following Match Day Programme
Opportunity to distribute Promotional Flyers on the day
Two Car Parking Spaces
Post Match Visit for you and your guests from two Rosslyn Park players or coaches of your choice.
Cost: £1500.00 + VAT
To find out more please contact Kenny Moore, our Sponsorship Manager, via email: kenneth.moore@rosslynpark.co.uk or phone: 0208 876 1879