Rosslyn Park 57 5 Tonbridge Juddians
Friday 4th February 2022
Rosslyn Park kept their unbeaten record at home intact by winning 57-5 over Tonbridge Juddians. Two tries each for Craig Holland and Arthur Ellis sealed a second Friday night fixture win this season.
Juddians had one try through their number eight Will Colderick on what was another difficult game for them. The win means that Park extend their lead at the top of National League One by ten points.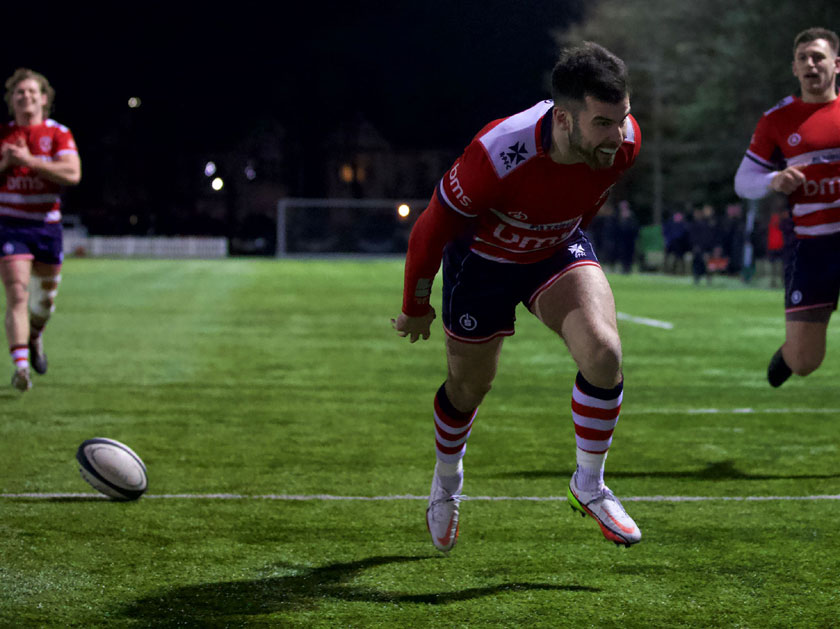 Park started the brightest early on as a couple of minutes into the game Ellis was able to go over for a score from a driving maul. The home side started to exploit the weak defence of Juddians and it was fullback Henry Robinson who burst through the centre of the pitch to race in for a try.
The away side were penalised at the breakdown and Holland duly knocked over a penalty to make it 17-0 midway through the half. Ellis then ran in to get his second of the match but there was trouble for Park near the end of the first half.
Both Ellis and Dan Laventure were sent to the sin bin for foul play and Juddians capitalised as Colderick scored from a driving maul. It was to be the visitors only points of the night as Park started to pour on the style.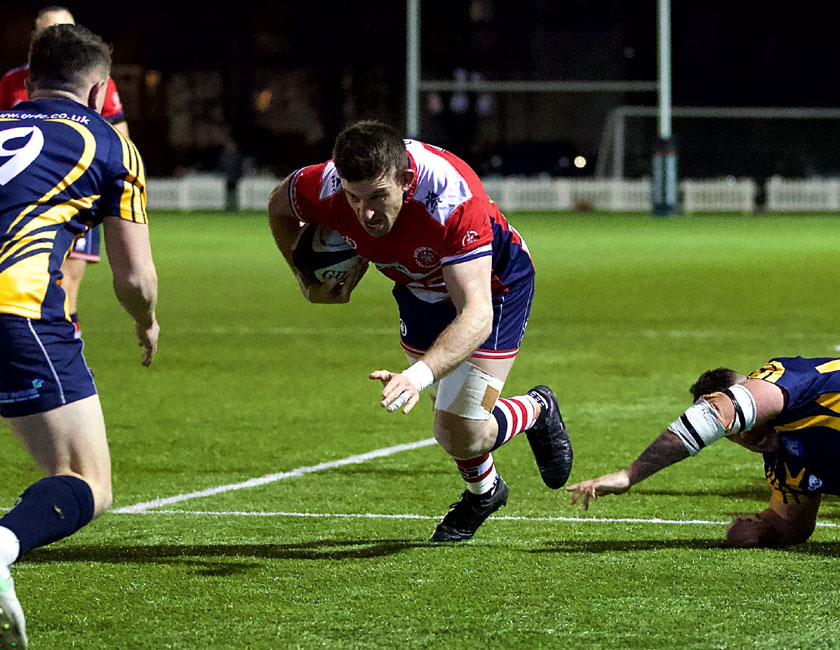 Dylan Flashman, Hugo Ellis and Jordan Martin used their power to cross the whitewash. Holland who had been flawless with the boot danced and dived his way over for two tries within the final ten minutes.
Rosslyn Park
Tries: A Ellis 2' 29', Robinson 5' Flashman 57', H Ellis 62', Holland 72',78, Martin 80'
Conversions: Holland 2', 5', 29', 62', 72', 78', 80'
Penalties: Holland 8'
Sin Bins: Laventure 36', A Ellis 38'
Team (15-9/1-8): Henry Robinson, Benji Marfo, Nick Scott, Quinten Koster, Josh Amadi, Craig Holland, Jack Gash, Oisin Kearney, Jared Saunders, Ollie Dawe, Dylan Flashman, Henry Spencer, Dan Laventure, Arthur Ellis, Hugo Ellis(C)
Replacements: Charlie Piper, Sam Garvey, Jordan Martin, Dave Lewis, Luc Smith
Tonbridge Juddians
Tries: Colderick 40'
Conversions:
Penalties:
Sin Bins:
Team (15-9/1-8): Joe Bridger, Hugo Watson, Duncan Tout, Kyle McGhie, Adam Haikiman,Tom White, Matt Walsh, Luke Boon, Joe Duffy, Bobby Bratton,Toby Freeman, Perry Parker, Josh Groocock, Ryan Munnelly, Will Colderick
Replacements: Alex Reid, Reece Conlon, Mark Davey, Tom Chapman, Reece Edwards
HT: 24-5
Results
Rosslyn Park 57-5 Tonbridge Juddians
Birmingham Moseley 5-26 Rams
Plymouth Albion 29-18 Leeds Tykes
Darlington Mowden Park 19-14 Blackheath
National League 1 table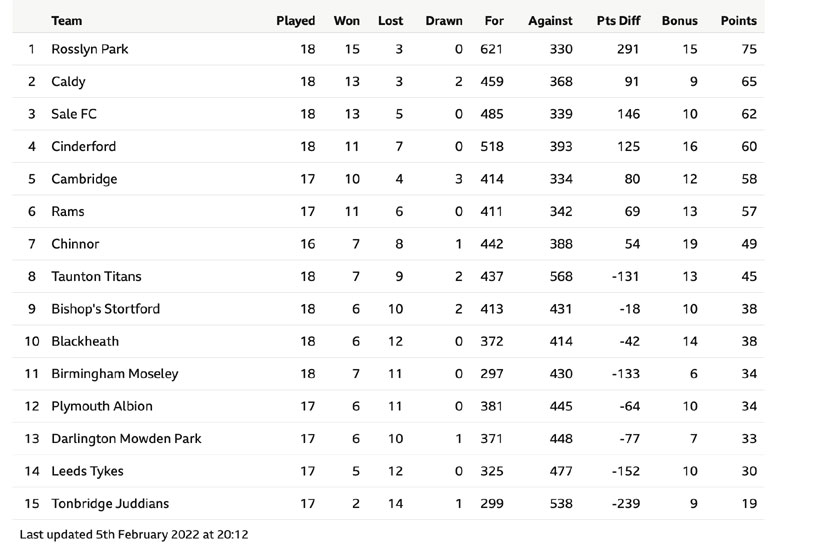 Rosslyn Park have a ten point lead at the top of National League One.
Rams are a point behind Cambridge in the League after winning away in Birmingham.
Both Plymouth Albion and DMP recorded wins this weekend and are clear of the drop zone.
Juddians still remain bottom.
Rams preview
Park's second game of February is at home to Rams. This fixture always has been tight in recent times and it's sure to be tight one when the two sides meet next Saturday.
In October at Old Bath Road, Park came from 24-0 down at half time to get within three points with less than 15 minutes to go but ultimately Rams prevailed and won the game 24-21.