ROSSLYN PARK COMMUNITY PROGRAMME MAKES A FLYING START TO 2023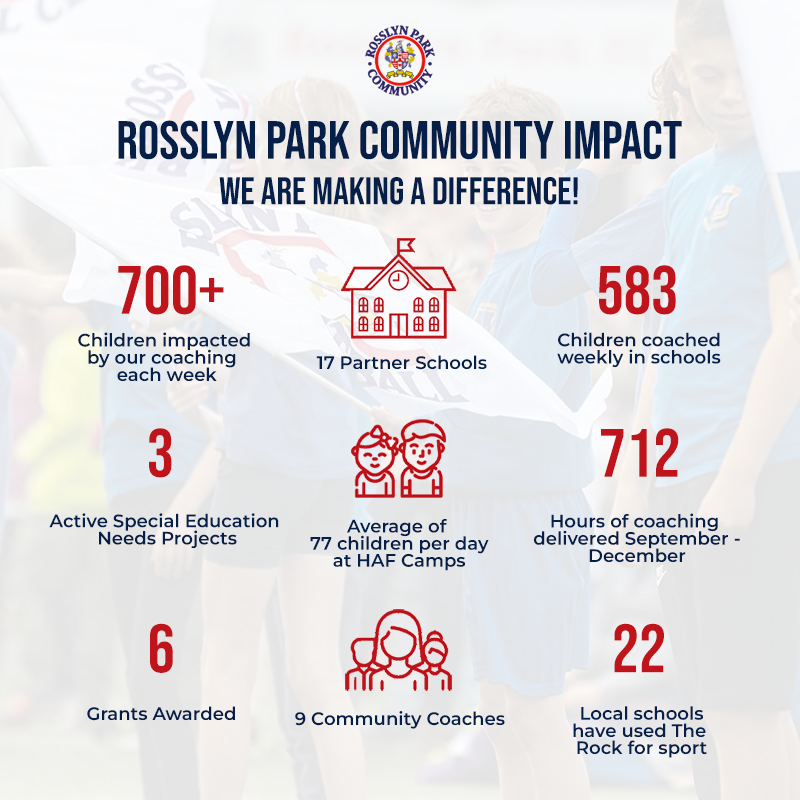 Rosslyn Park's Community Programme has made a flying start to 2023 with over 23 different school  and  grant funded weekly sessions already taking place in January.
The community programme was launched in June 2022 with the appointment of Dom Palacio as Head of Community Sport.
By the end of 2022, the programme's highlights were:
Helped over 700 children per week aged between four and 17
583 children coached each week in schools
Delivered 712 hours of coaching
Partnered with 17 schools across Barnes, Fulham, Putney, East Sheen, Wandsworth.
Appointed nine 'Community Coaches'
Welcomed 22 schools to Rosslyn Park's ground to use the facilities and pitch.
Designed and launched a Crime Prevention/Education programme, branded 'Fast Forward – Roehampton', in partnership with Wandsworth Borough Council and The Metropolitan Police. The aim is to engage with local school children who live on or near The Alton Estate in SW15, and who have been identified as "at risk of Gang grooming", in multi-sport sessions at their primary schools. Specifically, targeting children in year six of school, the sessions are supported by local community police officers talking to

 

children and parents about the risk of engaging in gang criminality. The programme is supported by the Metropolitan Police Deputy Commissioner for Front Line Policing, Laurence Taylor.
Dom Shabbo, Rosslyn Park Managing Director said, "The club firmly believes that we are well placed to support and inspire young people through sport, be that rugby, netball or soccer and cricket. With our first-class sporting facility located within Wandsworth, we are also keenly aware of our responsibilities to the wider community.
"By providing schools and youth clubs and the local university with specialist help and coaching, we hope that we can give young people the opportunity to have fun playing sport in a safe environment."
Rosslyn Park's Community Programme has already attracted grant funding for its work from National Lottery: Crime Prevent, Wandsworth Borough Council Crime Prevent and Sport England.