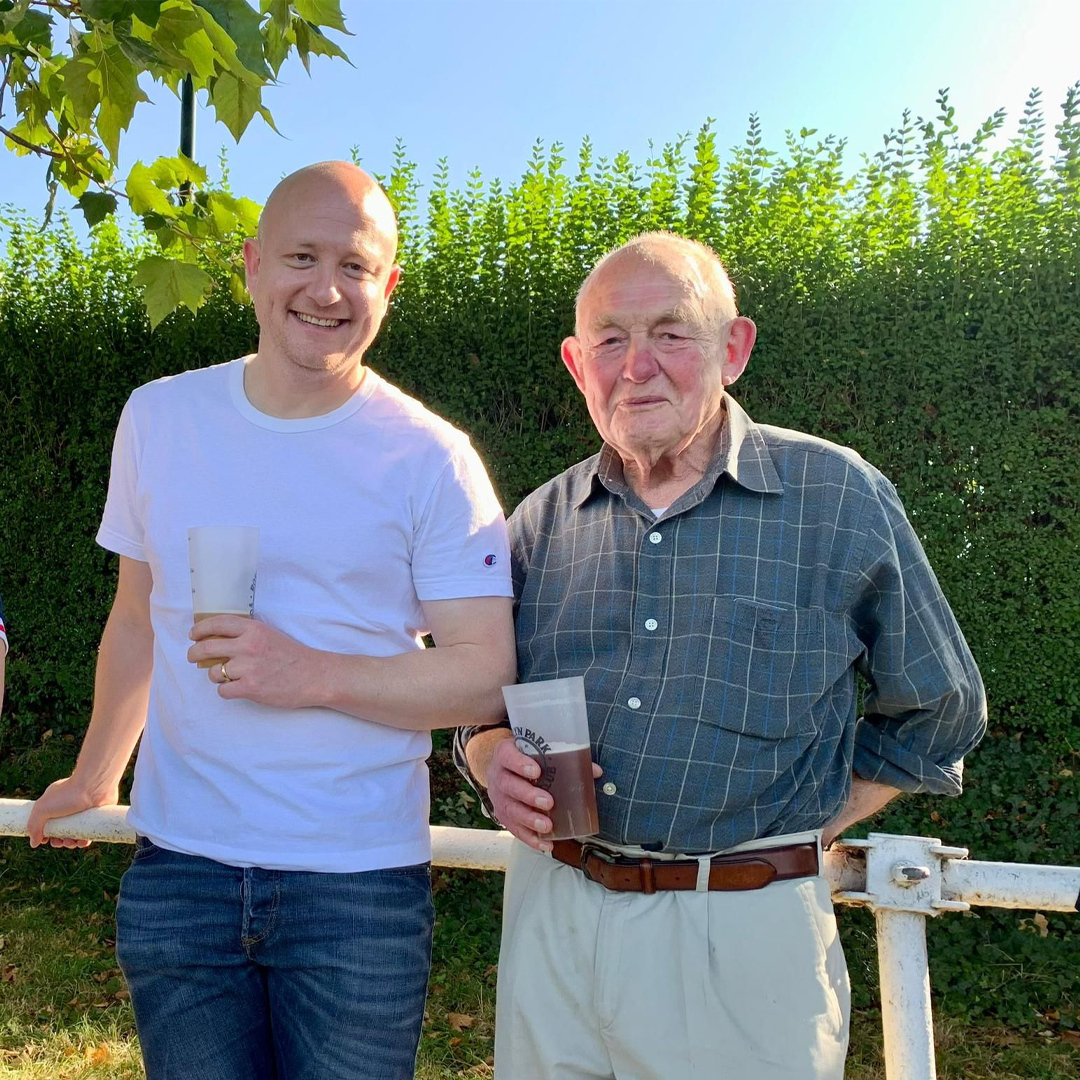 We are deeply saddened to hear of the passing of Brian Lawrence, a real club stalwart and a rugby man through and through. Brian died peacefully and with his family, to whom we extend our deepest sympathy.
Brian's active rugby career was as a hooker with Upper Clapton and Saracens. His first involvement with Rosslyn Park was in 1993, when his son joined the U12s, where he teamed up with Dave Starling, David Booth and John Weatherall. They managed to keep the core of the team together until they won the U18 Surrey Cup, winning several other tournaments on the way.
Before he had a chance to escape, Brian was persuaded to take over management of the 2nd XV, which he stayed with for many years. His sense of humour and warm personality inspired great loyalty and affection from his players, as borne out by the heartfelt tributes that poured in on news of his passing.  No matter what disaster befell, he could always see the funny side of any situation. But along with his warm personality, there was a core of steel – he was never afraid to speak truth to power if he felt something was wrong.
He was never just a decent bloke who ran the team however. He had a deep understanding of the game and the players and regularly offered wise counsel.  He was also an extremely shrewd judge of players and his opinions were always listened to.
Eventually he decided he could no longer do the job to the standard he held himself to, but instead of retiring he took on the task of meeting and greeting our referees and looking after them when the game had finished. He became very popular with the whistling fraternity.  Often after away matches, if he wasn't there, the referee would ask how he was. During his time at the club he also ran RE control at the National Schools Sevens.
Brian was simply one of the most decent human beings one could ever meet. We shall miss his cheerful presence more than words can express.
A minute's silence will be held at our home game on Saturday 4th November to remember Brian and his contribution to the club. The funeral details will be shared in due course.
Please read below a number of tributes which the club has received over the last few days, from those who knew Brian best.
Adam Tyrer, RPFC Chairman 
This news at the weekend was one of those occasions you just groan "oh no". It is difficult to imagine Rosslyn Park without Brian, always ready to welcome all at the ground, his cheeky chortle as he imparts some salacious news, pint in hand. RIP Brian"
Will Thorogood 
Brian Lawrence, a Club Legend and Stalwart, passed at the weekend at the age of 84. Our sympathies to his wife, Helen, and family.
Brian became involved with Rosslyn Park when his son, Ben, started playing for the U12s in 1993. Along with Dave Starling, David Booth and John Weatherall, proud dads, their boys Ben, Lee, Steve and Ed thrived through the age groups and were part of "Starling's All-Stars" winning the Surrey Under 18s Cup during the late 1990's.
From there, when the lads had flown the nest, Brian took on the mantle of 2nd XV team manager for a number of years in the 2000s. He made many friends among his players and colleagues in his travels with the 2s, and locally gained much respect. He taught John Weatherall everything he knows about rugby team management, particularly clearing up the changing rooms after the matches!
Brian, to me, was a kind, sympathetic, warm , good and understanding man, interested in the welfare of his players and the Club. A "team man" always with an interesting point of view. I knew Brian not only from the touch line but also in the Obolensky Bar (Gordon's Corner) along with Jim Willerton and David Booth amongst others. I learned a great deal from Brian, not only about Rugby Football, but also life and the ways of the world. Always a cerebral corner, with a lot of laughter with a couple of pints!
He meant a great deal to a lot of people.
He will be dearly missed.
David Booth
Delving into long term memory the RP involvement of several of us was initiated by Dave Starling putting together an U12 team more than 30 years ago. Brian, myself, John Weatherall, Clive Hallett, Micky Hunt et al became involved with RP as fathers of Ben, Steve, Ed, Neil and Simon respectively and we fathers have remained part of the Club in various roles since then. Our sons were part of the side which won the Surrey U18 cup three years in succession a feat not achieved previously or subsequently to date. The bond between the fathers and the sons was very strong and extended long after their playing days.
Dave Starling 
I first met Brian around 30 years ago as a result of his son Ben, a super quick winger, joining the youth section at the Park. It soon became apparent that he was one of those people who you could ask to do something and know it would be done- maybe it was because the rumour was true that he only needed two to three hours sleep a night. It was great, but not surprising, to see him move on to help the Park in other ways.
Charlie Addiman 
Brian was as good a drinking buddy as I ever had.  Always a joke, then that wheezy laugh. I recall him arriving in the bar after a 2s match at Reading: "Bloody Holty – cost us a try today and he wasn't even playing!  He was touch judge but he didn't notice a foot in touch before they scored a try. Had his back to the play, chatting up someone else's girlfriend". He wasn't annoyed – he just laughed until he coughed enough to need a gulp of beer. Great times – great bloke, and never shy of talking truth to power if he felt things were wrong. It's an old cliche that we'll never see his like again. I know I'll be bloody lucky if I ever do.
Bob Fisher
I worked with and alongside Brian for several years with the Development and 1st team, as he managed the 2nds.
He was someone who was always able to defuse a situation with a calm approach and an understatement.
Always had a comment  that was appropriate yet funny or ironic, underplaying most things.
Igino Corradi, Former Park player
I remember Brian for his welcoming smile as I joined Rosslyn Park as a 19 year old Italian student in London, who wanted to be a professional rugby player (but wasn't good enough to make it).
As I moved from the Italian countryside to the Big Smoke, Brian was a welcoming and friendly face that helped me settle in and adjust to a new environment. We would often have a chat either before or after matches. It was through those interactions that Brian shared his support and love to a young kid just landed from Italy looking for familiar faces.
I will remember him as a good man
---
Ohh Brian, lovely gent and made my time at park a lot more enjoyable.  Always up for a pint and a chat in the bar after a match.  RIP
---
Such sad news, I have many happy memories of playing for the 2s over the years, absolute stalwart of the club, will be sorely missed
---
Spent a lot of time working closely with Brian over many years at Park. Just the loveliest, loveliest man.
---
On speed dial every Friday afternoon rearranging teams. Always met with a grin. Any problem, however seismic (relatively speaking) fixed with a smile and a great laugh after. Got stuff done. No fuss. Great piss taker. Kept us all grounded.Knew if players were happy/unhappy and why. Hope there's still guys out there doing all that across the country. We and the Club owe him. Lost a good one there. 
---
Loved Brian.Very sad to hear. What a splendid bloke. He once told me about the time he was blown up by a German V2. He was six I think. It blew him through the patio doors and into his parents' sideboard. Lucky to have had Yoda as long as we did.
---
A truly lovely man who dealt with life's ups and downs in a balanced manner.
---
Sad news indeed. Brian a totally reliable team organiser, and clubman who met triumph and disaster with a chuckle and a wry grin. He was always ready for a chat and a beer. Bye old dear friend.
---
…I can still hear his voice taking the piss now. Special man.
---
A wonderful man. One of the greats. RIP Brian
---
For a long time I thought Brian lived at the club. He was always the first to greet me and make me feel welcome no matter my state of unpreparedness. He always had a smile and a solution to what ever admin challenge I faced. On one occasion I managed to forget my boots – unimaginable I know but it happened. He managed to secure a pair of Nick Easter's signed boots in the office which were donated for a charity auction. A size too small but they did the job and some lucky punter must have brought a pair of Nick Easter's boots unknowingly worn by the clubs top try scorer in 1997. A rugby servant who was utterly selfless in my book serving the club. The club experience will be massively diminished without his presence. Rest in peace Brian.