Match Report
Saturday 18 January 2020
Rosslyn Park 40 - 21 Sale
The Match Gallery of photos from the weekend are online here: https://bit.ly/2tABle9
Craig Holland's incredible end-to-end try put the cherry on top of a scintillating Rosslyn Park win against Sale at The Rock.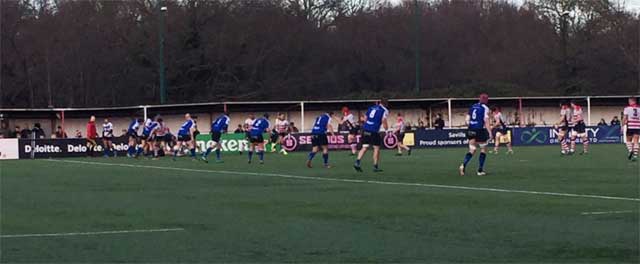 The London side went over the line six times as they bounced back from losing to Sale in dominant style. And Richmond's win over Rams means Park climb up to second as the title battle gets even closer.
Park leapt out the blocks as a swift move from the line-out saw Neville Edwards run clean through on the left wing after two minutes. And the home side had a second eight minutes later, Joe Munro spinning through the defence to bound under the posts.
Holland was on hand both times to add the extras, giving the crowds at the Rock great optimism of a heavy win. This was hampered on 18 minutes, though, as Ollie Longmore finished off his own maul to put Sale on the board.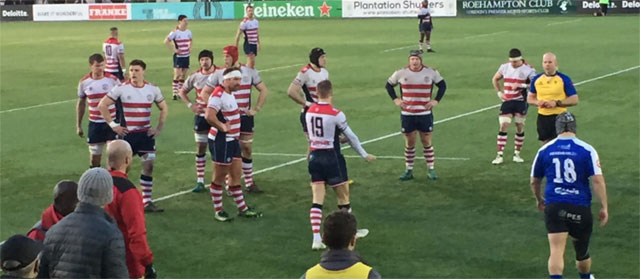 But Park did not let it haunt them, continuing to put pressure on that saw Ali Wade run clear six minutes later.
Sale gave Kieran Power's men something to think about on 27 minutes as Jonty Rawcliffe finished off a move on the left wing.
The visitors held onto possession until half time but could not break through again. And Park punished them 10 minutes after the restart, Henry Robinson breaking through before Benji Marfo burst through a gap in the defence.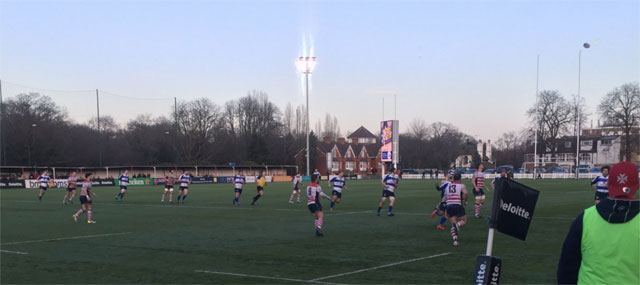 But the best moment of the day came on the hour.
With a roar from the crowd, Jonathan Mills' pack caused a Sale error from their scrum and Holland leapt onto the loose ball. Starting on his own five-metre line, the No.10 ate up the turf as he added Park's fifth try.
Sale jarred the home side's course to victory when captain Andrew Hughes drove through on the left wing 11 minutes later. But Edwards finished the game as he started it, with a score in the corner for the final action of the game to send Park second.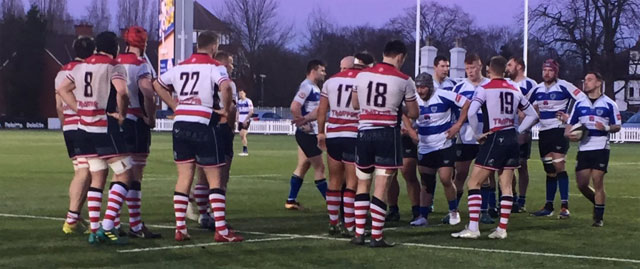 Park's win also marked a special day for scrum-half Jack Gash as he made his 150th appearance in red and white.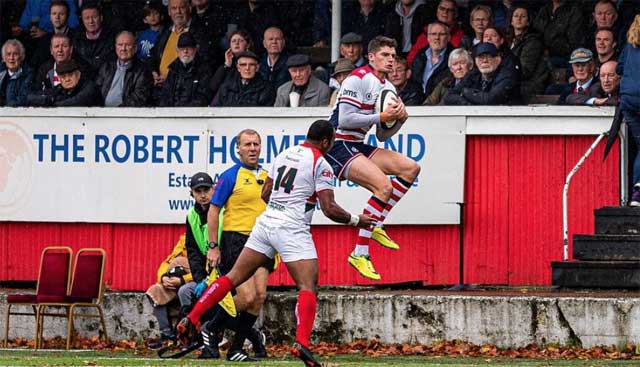 Rosslyn Park
Tries: Edwards 2, 80, Munro 10, Wade 24, Marfo 50, Holland 60
Conversions: Holland 3, 11, 25, 51, 61
Penalties:
Sin Bins:
Team (15-9/1-8): Henry Robinson; Benji Marfo, Rhys Crane (Harry Leonard 61), Joe Munro ©, Neville Edwards; Craig Holland, Dave Lewis (Jack Gash 62); Kyle Traynor (Wade 70), Owen Hughes (Henry Spencer 52), Ali Wade (Paul Doran-Jones 45); Sam Twomey, Gregor Gillanders (Jonathan Mills 70); James Freeman, Arthur Ellis, Dan Laventure
Sale
Tries: Longmore 18, Rawcliffe 27, Hughes 71
Conversions: Johnson 19, 28, 72
Penalties:
Sin Bins:
Team (15-9/1-8): Emiliano Calle Rivas; Jonty Rawcliffe (Chris Owen 65), Jack Moorhouse, Patrick Ah Van, Anthony Bingham (Rawcliffe 72); Chris Johnson, Matthew Bradley; Dan Birchall (John Blanchard 51), Ollie Longmore (Juan Pablo Rivas 62), Matt Talaese (Dan Matthews 30; Talaese 62); William Davies, Nick Gray (Stone Priestley-Nangle 61); Jake Barron, Andrew Hughes ©, Jarad Williams
Attendance: 756
Referee: Nick Wood
HT: 21-14
Star Man: Craig Holland – Rosslyn Park
Results
Bishop's Stortford 17-30 Chinnor
Canterbury 5-52 Plymouth Albion
Cinderford 20-14 Darlington Mowden Park
Hull Ionians P-P Sale
Old Elthamians 25-28 Cambridge
Rams 17-22 Richmond
Rosslyn Park 40-21 Sale
Rotherham Titans 22-20 Birmingham Moseley
National League 1 table
Richmond remain top of National League 1 but could not get the bonus point against Rams.
Rosslyn Park snap up the opportunity to tighten the title race, moving up to second and now just two points behind their London rivals.
The Reading side drop down to third but a losing bonus sees them just one point behind Kieran Power's men.
Chinnor climb to fourth with the win against Bishop's Stortford, moving five points clear of Sale as their game against Hull Ionians was postponed due to player Billy Hardy's passing.
Darlington Mowden Park and Old Elthamians both lost but remain sixth and seventh respectively.
Cambridge's win over the south-east London side propels them into the top half, joining their victims on 53 points.
The two sides are also accompanied by Plymouth Albion, climbing two places with their bonus point win over Canterbury.
Cinderford, despite beating DMP, still drop down to 10th after missing out on the scoring bonus.
Sale's defeat means they are only team from last week's 48-point club to stay the same, pushing them down to 11th.
Bishop's Stortford and Birmingham Moseley occupy the two places above the relegation zone, with the West Midlands side picking up a losing bonus. But their loss to Rotherham Titans means the gap to safety is only eight points.
Ionians were not in action but bottom-side Canterbury were not given a chance to threaten their position, leaving both sides in the same place.
Plymouth Albion preview
Park face the long trip to Devon for a match-up with Plymouth Albion as they look to regain National League 1 momentum.
The Brickfields side demolised relegation battlers Canterbury in a comprehensive 52-5 win at the Marine Travel Ground.
But the boys in red and white will have fond memories of the south west, beating Albion 35-21 on the road.