Rosslyn Park 68 Taunton Titans 21
Saturday 15 January
Rosslyn Park stormed to a 68-21 victory over Taunton Titans at The Rock cementing their position as league leaders.
Two tries each from Benji Marfo and Charlie PIper along with Brandon Jackson, Jared Saunders, Nick Scott Henry Robinson, Dan Laventure and Captain Hugo Ellis saw Park cruise to victory.
Harry Leonard scored eighteen points from his boot.
Titans scored through Lewis Webb, Jack Walsh and George Gosling.
It was the home side that started the strongest as Jackson used his power to charge through the Titans defence to score the games opening try. Titans hit back very quickly with two tries from their half back pairing of Webb and Walsh.
But Jackson was proving a handful for Taunton and it was his break that saw hime give the ball to Howard who then released Marfo into the corner. Jackson was involved again in Park's third try in making another break before offloading to Laventure.
Park secured the bonus point well into the first half as Nick Scott powered his way over before Piper scored his first of the afternoon.
The start of the second half saw a familiar sight as Ellis scored a try, two minutes into the second half. After that, Park went into cruise control as Jackson smashed his way through the defence to give the ball to Marfo who went over for his second.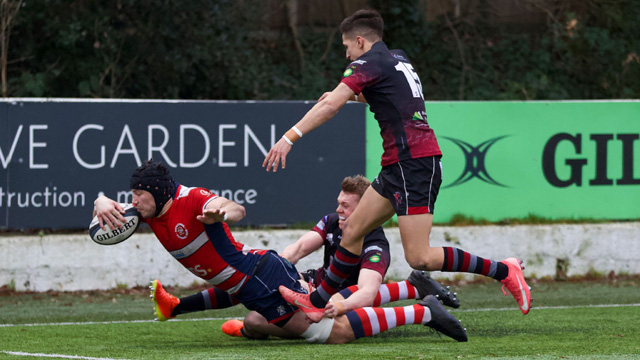 Piper then mauled his way over for a second before Robinson and Saunders went over. Titans were rewarded for batting hard as Gosling went over for a consolation score.
Rosslyn Park
Tries: Marfo 20' 46' , Piper 38' 52', Scott 20', Jackson 5', Laventure 23', Saunders 68', Ellis 42'
Conversions: Leonard 5' 20' 35' 38' 42'46'52'60'68'
Penalties:
Sin Bins:
Team (15-9/1-8): Henry Robinson, Benji Marfo, Brandon Jackson, Nick Scott, , Ben Howard, Harry Leonard, Jack Gash, Kyle Traynor, Charlie Piper, Oisin Kearney, Dan Laventure, Henry Spencer,Jared Saunders Arthur Ellis, Hugo Ellis(C)
Replacements: Ollie Dawe, Sam Garvey, Jamie Gray, Dave Lewis, Craig Holland,
Taunton Titans
Tries: Webb 10' Walsh 15' , Gosling 78'
Conversions: Walsh 10 15 78''
Penalties:
Sin Bins:
Team (15-9/1-8): Frankie Dart, Greg Kitson, Harry Tarling, Toby East, Wilf McCarthy, Jack Walsh, Lewis Webb; Will Norton, George Gosling, Matt Johnson, Dan Swain, Sam Leworthy, RatuVakalutukali, Charlie Wright, Sam Prior
Replacements: Alex Rodd, Isaac Dalton, Ben O-T, Jarrard Hayler,James Keay
HT: 33-14
Results
Rosslyn Park 68-21 Taunton Titans
Sale FC 66-10 Tonbridge Juddians
Bishops Stortford 12-7 Leeds Tykes
Cinderford 24-31 Chinnor
Birmingham Moseley 11-15 Caldy
Rams 41-27 Plymouth Albion
National League 1 table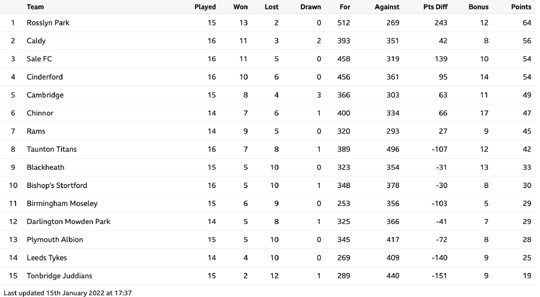 Rosslyn Park cement their place at the top of the League extending the gap to eight points.
Caldy go second after a close win away to Birmingham Moseley.
Sale replace Cinderford in third as they hammered bottom side Tonbridge Juddians at Heywood Road.
Cinderford drop to fourth after a loss to Chinnor at home.
Darlington Mowden Park's game with Blackheath was called off due to a frozen pitch.
Darlington Mowden Park preview
Next Saturday sees Park take on Darlington Mowden Park at The Rock after the visitors fixture was called off this week.
The two sides last played each other at the Northern Echo Arena and it was Park that ran out 28-17 winners that day.