Match Report
Saturday 15 February 2020
Rosslyn Park 26-12 Darlington Mowden Park
By Warren Muggleton
Kieran Power praised his Rosslyn Park side's grit as they battled to a win over Darlington Mowden Park at The Rock.
Gregor Gillanders grabbed a bonus point in a turnover scrum as Arthur Ellis scored a fifth try in three games. Craig Holland also got on the scoreboard after a penalty try, putting Park a point nearer to league leaders Richmond.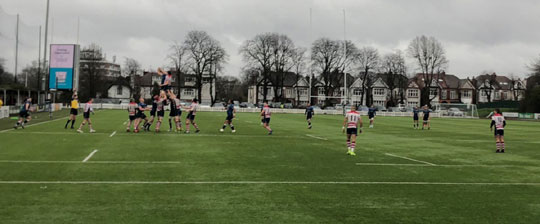 Director of Rugby Power said: "Around the park, the boys grafted really hard. It's hard to play into a wind like that as a pack but they really stuck to task and it paid dividends. We controlled the territory that bit better in the second half and were able to come away with two tries that kicked us on for the bonus.
"I was really pleased with the grit to stay in there. They got stuck in together, stayed tight, their energy and control was that little bit better. There's still a lot of rugby to be played, so we just have to take it one at a time as anyone can beat anyone."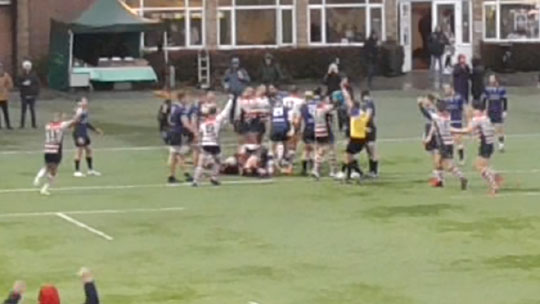 Park were given an advantage after just 10 minutes as Paul Jarvis and Ben Frankland were given sin bins within two minutes of each other. The home side used the advantage to win a penalty try from a driving scrum after 14 minutes.
National League 1 top-scorer Warren Seals had the chance to kick points on the board from a penalty seven minutes later but the wind pushed his attempt wide. DMP, though, did get on the board after 27 minutes, Brandon Asher-Wood breaking through the defence – but the fly-half missed the extras.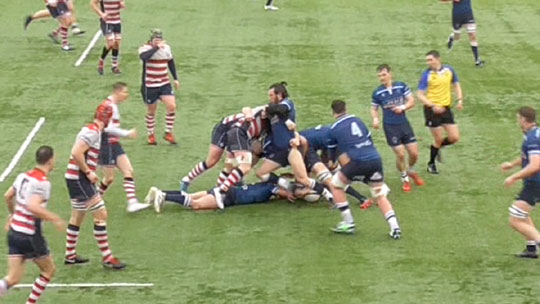 It allowed Park to build momentum, finishing the half with a massive drive for Ellis as Greg Lound reached 100 points for the season.
The home side continued this after the restart, Holland sprinting into the left corner from a breakaway on 47 minutes.
Power's side, though, were given an obstacle as Paul Doran-Jones was sin-binned on the hour. And DMP responded immediately, the quick penalty leading to driving play to be finished by Max Davies.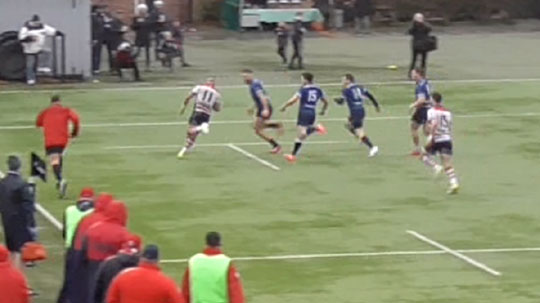 Park did not stop battling, preventing the visitors from capitalising further on their one-man advantage. They were rewarded with a bonus point in the final minutes, the pack turning over a scrum on the opposition's five-metre line and Gillanders jumping onto it.
Rosslyn Park
Tries: Penalty 14, Ellis 39, Holland 47, Gillanders 78
Conversions: Lound 40, 48
Penalties:
Sin Bins: Doran-Jones 60
Team (15-9/1-8): Henry Robinson; Ben Howard (Neville Edwards 54), Nick Scott, Joe Munro ©, Craig Holland; Greg Lound, Jack Gash (Dave Lewis 53); Kyle Traynor (Ali Wade 76), Ryan Roach, Stewart Maguire (Paul Doran-Jones 54); Sam Twomey, Gregor Gillanders; James Freeman (Maguire 65; Henry Spencer 71), Arthur Ellis, Mike Kovacic
Darlington Mowden Park
Tries: Asher-Wood 27, Davies 61
Conversions: Seals 62
Penalties:
Sin Bins: Jarvis 9, Frankland 10
Team (15-9/1-8): Paul Jarvis (Walker 62); Brandon Asher-Wood, Ben Frankland, Ben Dixon, Ollie Walker (Chris McTurk 48); Warren Seals, Euan McKirdy; Jonas Humbert (Callum Mackenzie 69), Joe Duffy (Ralph Appleby 70; Duffy 79), Talite Vaioleti; Ross Bundy (Aaron Thomson 48), Max Davies; Joe Craggs, Tom Marshall, Ollie Hodgson ©
Replacements: Garry Law
Attendance: 623
Referee: Dr Jonathan Cook
HT: 14-5
Star Man: Gregor Gillanders – Rosslyn Park
Results
Bishop's Stortford 10-10 Blackheath
Canterbury 0-7 Chinnor
Cinderford P-P Rams
Old Elthamians 7-9 Richmond
Plymouth Albion P-P DarlingtonMP
Rosslyn Park 26-12 Darlington Mowden Park
Rotherham Titans 26-10 Hull Ionians
Sale P-P Birmingham Moseley
National League 1 table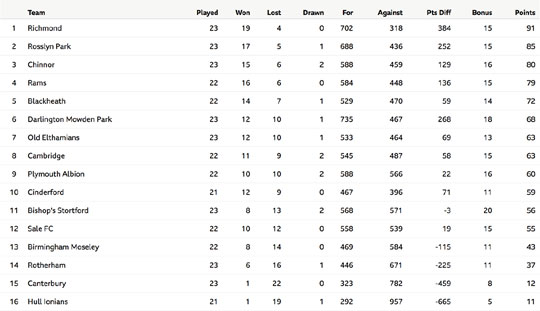 Richmond remain top of National League 1 but Rosslyn Park's bonus-point win means the gap is now reduced to six points.
Chinnor leap-frog postponed Rams into third after battling to victory against Canterbury.
Blackheath's draw against Bishop's Stortford keeps them fifth, hitting the 70-point mark.
Old Elthamians' comeback did not quite emerge against Richmond, meaning a losing-bonus is their only prize – but it sees them overtake postponed DarlingtonMP to seventh.
Plymouth Albion and Cinderford were also out of action this week, remaining ninth and 10th respectively.
Stortford's prize for drawing against Blackheath is a climb to 11th, pushing past postponed Sale and three points off the Gloucestershire side.
Birmingham Moseley have to watch on as Rotherham Titan's win cuts the difference between them once again to six points.
Canterbury were rewarded for their efforts against Chinnor by lifting themselves off the bottom, earning the losing bonus point.
Hull Ionians are the new side in 16th after losing to Titans in a relegation battle.
Chinnor preview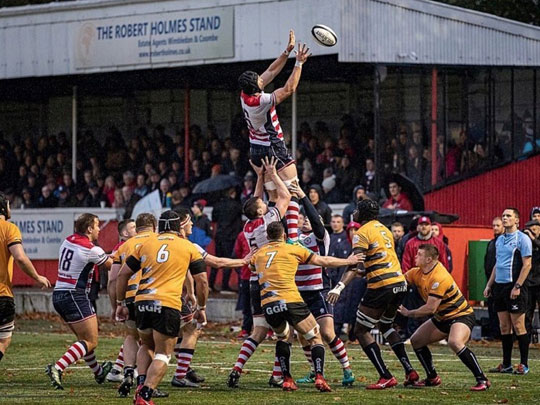 Park face a trip to Chinnor, who have been keeping up pressure on the top-four throughout the season.
The Thame-based side were forced to battle for their 7-0 win at the Marine Travel Ground against Canterbury.
And they are in for a battle with Park, drawing 27-27 at The Rock and drawing 31-31 in the last visit to Kingsey Road.