Match Report
Saturday 8 February 2020
Moseley 19 - 31 Rosslyn Park
Ben Howard's try was the pick of the bunch in a game of two halves as Rosslyn Park held off Birmingham Moseley at Billesley Common.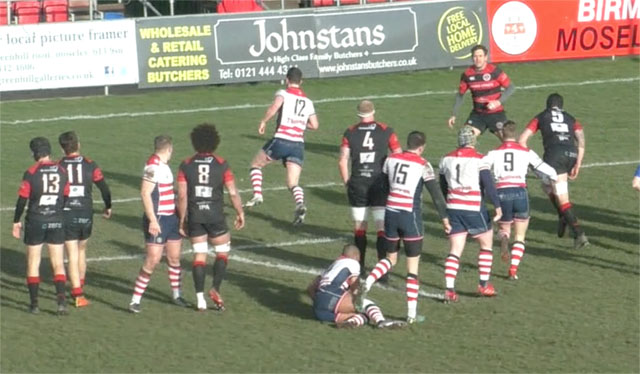 The London side went into the break 31-0 up, four tries securing a scoring bonus point. Moseley's Mason Tonks and Cliffie Hodgson gave them a scare in a dominant second half but Park held out.
The visitors were given the lead after just three minutes of play after the home side's pack turned a scrum. And Greg Lound, making his first start against the same side he suffered a hamstring against in October, coolly found the posts from close range.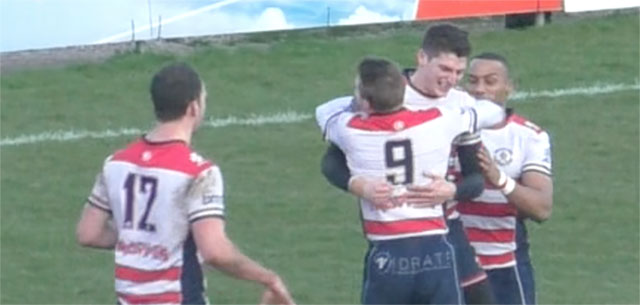 Park were straight back on the attack and grabbed their first try four minutes later, Jack Gash finding Joe Munro's deep run. Kieran Power's side added another when Stewart Maguire drove over from a line-out to the right of the posts on 22 minutes.
Park had their third in the next play as Gash picked up the ball and sprinted away to space. He was joined by full-back Howard, who was left with the line beckoning to dot down under the posts.
Arthur Ellis added to last week's hat-trick with a side-stepping run, taking him from the five-metre line to the try zone at close quarters for the bonus point with five minutes to half time.
Park had the wind with them for their rampant first half – but it was certainly against them in the second half.
Some fast Moseley hands allowed fly-half Ben Palmer to stretch the London side's defence, giving Tonks room to dive over on the left on 48 minutes.
Adam Balding's side continued to hem Park into their own half with aggressive attacking and kicking play. And they had a second try 10 minutes later, Palmer finding a gap to feed an on-rushing Hodgson who added the extras.
Moseley really piled the pressure on with nine minutes to go, once again stretching the defence for Tonks to go over on the left. But Power's men rallied to pitch camp for the remaining minutes, earning a first away win since early January.
Birmingham Moseley
Tries: Tonks 48, 71, Hodgson 58
Conversions: Hodgson 59, 72
Penalties:
Sin Bins:
Team (15-9/1-8): Cliffie Hodgson; Mason Tonks, James Forrester, Ravai Fatiaki, Louis Roach (Chester Duff 40); Ben Palmer, Jonny Arr ©; Nathaniel Titchard-Jones (Joe Foreman 54), Beck Cutting (Pete Austin 48), James Tideswell (David Langley 48); Tony Worthington, Aaron Crofts; Morgan Monks (Stephens 66), Michael Stephens (Morgan Dawes 40), Buster Lawrence
Rosslyn Park
Tries: Munro 7, Maguire 22, Howard 24, Ellis 35
Conversions: Lound 9, 23, 25, 36
Penalties: Lound 3
Sin Bins:
Team (15-9/1-8): Ben Howard; Benji Marfo, Henry Cheeseman (Craig Holland 50), Joe Munro ©, Nick Scott; Greg Lound, Jack Gash (Dave Lewis 57); Kyle Traynor (Ali Wade 51), Ryan Roach (Henry Spencer 14), Stewart Maguire (Paul Doran-Jones 40); Sam Twomey, Gregor Gillanders; James Freeman, Arthur Ellis, Mike Kovacic (Roach 66)
Attendance: 800
Referee: Joe James
HT: 0-31
Star Man: Joe Munro – Rosslyn Park
Results
Birmingham Moseley 19-31 Rosslyn Park
Blackheath 29-19 Plymouth Albion
Cambridge 37-31 Sale FC
Chinnor 33-3 Old Elthamians
Darlington Mowden Park 64-14 Canterbury
Hull Ionians 10-58 Cinderford
Rams 35-31 Bishop's Stortford
Richmond 52-20 Rotherham Titans
National League 1 table
Richmond, Rosslyn Park and Rams remain as they were in the title battle, with the south-west London sides seven points apart and ex-Redingensians one behind Kieran Power's men.
Chinnor, Blackheath and Darlington Mowden Park are making up a chasing pack on the league leaders. The Thame-based side remain three points behind Rams after their bonus-point win.
Blackheath, though, missed out on a bonus, now six points off their rivals with DMP closing to two in sixth.
Cambridge's seventh win in eight games propels them to seventh, now just five points off the most northern side.
This sees Old Elthamians and Plymouth Albion, who suffered losses on the road, drop to eighth and ninth respectively.
Cinderford's crushing win in Hull does not change their 10th place – but a bonus point win sees them within one point of Albion.
Sale and Bishop's Stortford are both rewarded for narrowly fought and high-scoring losses with bonus points, four points off the Gloucestershire-based side.
Despite their second-half comeback, Moseley remain 13thand take no bonus points.
Rotherham Titans grabbed the initiative against Richmond by getting four tries, making their survival requirements 11 points.
Hull Ionians and Canterbury's impending relegation draws nearer as they remain the bottom two sides with no bonus points.
Darlington Mowden Park preview
Park welcome the league's top-scoring side Darlington Mowden Park to The Rock in a post-Valentines Day clash.
The Northern Echo Arena side made it seven consecutive home wins with a 64-14 crushing of Canterbury last Saturday.
But the side that Park 32-31 with a last-kick penalty at The Rock in January 2019 have not won on the road since October.