Leeds Tykes 13 Rosslyn Park 19
Saturday 8 January
Rosslyn Park started 2022 off with a hard fought 13-19 win over Leeds Tykes at Headingley Stadium. Tries from Lewis Jones, Arthur Ellis and Hugo Ellis saw Park storm to their first away victory since November.
The home side scored two penalties from the boot of Connor Lloyd and Charlie Venebles whilst Seremaia Bai Turagaebeci scored the hosts only try.
The result sees Park maintain their lead at the top of National League One. This game was Tykes only game at Headingley this season. Park last visited the stadium in the days of Cool Britannia in 1996.
Having lost against Cambridge and a game postponed Park were raring to start 2022 in perfect fashion. And the first try came only two minutes in when Tykes knock on and the resulting scrum saw Park come away with the ball before Arthur Ellis touched down for the opener. Tykes hit back nine minutes later when they shifted the ball out to Turagaebeci who raced in for the home's side first try.
Park then regained the lead five minutes later after winning a penalty from a collapsed scrum. The resulting line out saw Park win the ball and set up the maul in which Hugo Ellis touched down. Tykes cut the gap to two when Lloyd slotted a penalty after Park were penalised at the breakdown.
The rest of the first half saw many chances from both sides but no one could convert them. Park held a 12-10 lead at half time.
The start of the second half was scrappy for both sides but Park had the best chance to take the lead but they were held up short by a strong Tykes defence. However, Park extended their lead after sloppy handling from the home side saw Craig Holland pounce on a loose pass. Holland offloaded to Nick Scott, before Scott passed it out to Lewis Jones who scored the third of the afternoon. Holland slotted the conversion to give Park a nine point lead.
The hosts then cut the gap to six after Park were penalised coming in from the side with Venebles slotting the second penalty of the afternoon.
Park then had to withstand wave after wave of Tykes chances from line-outs near the Park line. However, Tykes were unable to take the chances and Park managed to hold out for the win.
Rosslyn Park
Tries: A Ellis 2' , H Ellis 11' , Jones 59'
Conversions: Holland 2',11',59'
Penalties:
Sin Bins:
Team (15-9/1-8): Henry Robinson, Brandon Jackson, Nick Scott, Lewis Jones, Ben Howard, Craig Holland, Jack Gash, Kyle Traynor, Charlie Piper, Austin Hay, Henry Spencer, Jamie Gray, Dan Laventure, Arthur Ellis, Hugo Ellis(C)
Replacements: Jared Saunders, Ollie Dawe, Sam Garvey, Dave Lewis, Harry Leonard
Leeds Tykes
Tries: Turagaebeci 11'
Conversions: Lloyd 11'
Penalties: Lloyd 22' Venebles 62'
Sin Bins:
Team (15-9/1-8): Andrew Lawson, Seremaia Bai Turagaebeci, Charlie Venables, Tom Williams, Harry Jukes, Charlie Morgan,Connor Lloyd; Dom Hardman (C), Adam Brown, Xavier Valentine, Jake Brady, Michael Etete, Tom Collins,James Gulliver, Matt Burke
Replacements: Alex Pleasents, Simon Ridgway, Chris Bell, Will Hardwick, Ben Dixon
HT: 10-12
Results
Leeds Tykes 13-19 Rosslyn Park
Caldy 26- 24 Cinderford
Cambridge 19-14 Sale FC
Plymouth Albion 31-17 Bishops Stortford
Tonbridge Juddians 19-22 Rams
Taunton Titans 24-14 Darlington Mowden Park
Blackheath 17-22 Birmingham Moseley
National League 1 table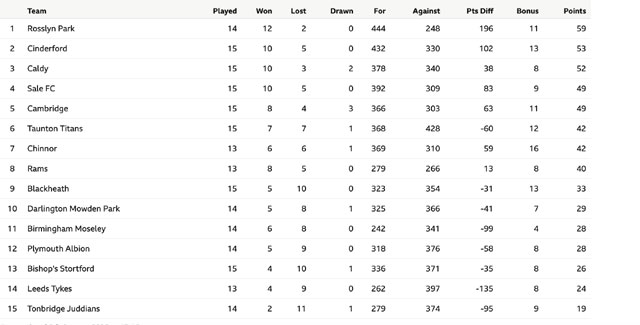 Rosslyn Park maintain a six point lead at the top of the table.
Cinderford are second in the table after taking a losing bonus point from their match against Caldy.
However, Caldy move up to third after putting together impressive performances in the past month.
Sale FC and Cambridge are both tied on 49 points after Cambridge won 19-14 against Sale.
Park's next two opponents Taunton and DMP played out a 38 point game in Taunton.
Tonbridge Juddians still remain at the bottom of the table
Taunton Titans preview
Park's first home game of 2022 sees them hosting Taunton Titans who are sixth in the league. The last time these two sides met was in Taunton with Park storming to a 14-40 victory.