Chinnor 55 19 Rosslyn Park
9th April 2022
By George Havord
It was an afternoon to forget for Rosslyn Park who were comprehensively beaten by a ruthless Chinnor side. The team from Oxford put eight tries past a hapless Park who suffered their heaviest defeat in four years.
A game in which Park looked like a side closer to the relegation zone than promotion. Defensively, the Londoners were pulled and dragged out of shape, making 40 metre carries for the Chinnor players a consistent feature of the match.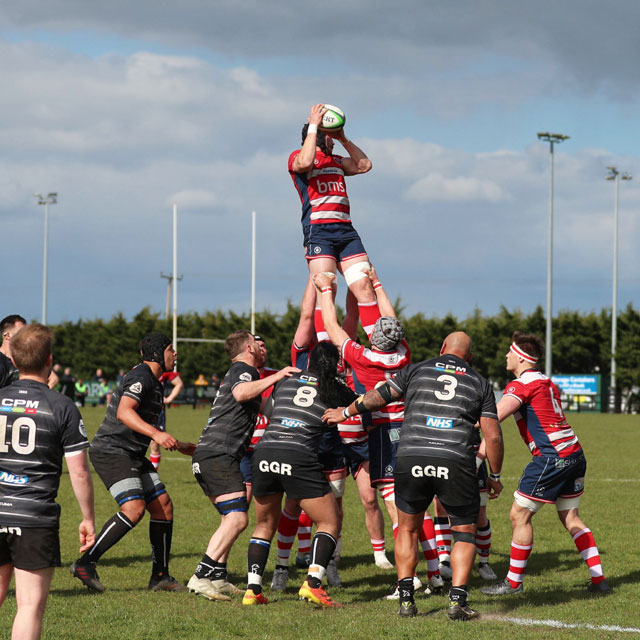 Speaking after the game Director of Rugby Kieran Power said 'for me out there it looked like we had 15 strangers on the pitch, who didn't know each others names. There was one side playing as a team and another playing as individuals'.
After last week's tight 17-18 defeat to Caldy a response was needed from Power's men if they were to put the pressure back on the league leaders.
Power explained that 'there was a huge hangover from last week but we talked about not feeling sorry for ourselves'.
However it was a slow start from Park as they went 17-0 down within 12 minutes. Some smart handling from Ben Manning opened a gap for Kieran Goss to race over. Moments later Luke Carter also shot through a gap in the Park line to touch over.
A couple of penalties got Park back in the game and up the field. After a few phases of pick and goes for not many metres, it was skipper Hugo Ellis who powered through a gap and got us into the game.
Power said after the game, 'there was a point at 17-7 that if we had dug in, the tide and momentum would have changed but that wasn't to be seen'.
With Park getting a foothold in the contest, it was Chinnor's Sam Yawayawa who scored two successive tries to take any threat of a Park comeback well and truly away. For Yawayawa's first he pierced through a huge hole in the centre of Park's line.
Moments later he got his second when Fred Tuilagi carried well off a line out, offloading to the inside centre who had the simple task of touching over.
31-7 down and Park were hoping to get to half time and regroup. But Chinnor did not let up on their dominance. With Dan Laventure in the bin, the home side capitalised on their man advantage when Jack Walsh broke the paint.
After such a dismal first half, a Park reaction was expected, but didn't come. It was more of the same as after 12 minutes of the second half, Chinnor had scored two more tries through Goss and hooker Mark Darlington from a driving line out.
Park were playing like they were stuck in quicksand. Slow to move and sinking further and further away from promotion. Chinnor's final try came on the hour mark when Park positionally were all over the place. Walsh picked out Nick Smith who was acres of space on the wing as he ran over.
At this point the score was 55-7. Not even the most optimistic Chinnor supporter would've expected a score line like that.
There was late heart and fight from Park when they momentarily remembered how to play rugby. Some neat work from Hugo Ellis and Charlie Piper carried us up the field. It was Henry Spencer who eventually scored under the posts. Piper himself got on the scoresheet minutes later touching over from the back of a driving maul.
It was a humbling day for Park who all but relinquished any possibility of promotion. They were out played and out fought by Chinnor who deserve a lot of credit for such an impressive display in front of their home support.
Park are now in 4th position and 13 points behind league leaders Caldy.
The boys have given us some amazing results and moments this season. It may not be ending the way we all wanted or expected but we have three games left to get behind the team in a difficult moment and end the season on a high.
Rosslyn Park
Tries: H.Ellis 19', Spencer 67', Piper 74'
Conversions: Leonard 19', 68'
Penalties:
Sin Bin: Laventure 32', A.Ellis 79'
Team (15-9/1-8): Luc Smith, Ben Howard, Brandon Jackson, Henry Cheeseman, Craig Holland, Harry Leonard, Luke Baldwin, Ollie Dawe, Charlie Piper, Stewart Maguire, Henry Spencer, Jamie Gray, Dan Laventure, Arthur Ellis, Hugo Ellis
Replacements: Ali Wade, Nick Lovell, Dylan Flashman, Jack Gash, Quinten Koster
Chinnor
Tries: Goss 6', 43', Carter 8', Yawayawa 26', 34' Walsh 40', Darlington 49', Smith 61'
Conversions: Smith 6', 8', 27', 35', 40', 44'
Penalties: Smith 12'
Sin Bin:
Team (15-9/1-8): Nick Smith, Kieran Goss, George Grose, Sam Yawayawa, Jason Worrall, Jack Walsh, Luke Carter, Keston Lines, Mark Darlington, Soane Tonga'uiha, Ben Glynn, Conor Brockschmidt, Willie Ryan, Ben Manning, Fred Tuilagi
Replacements: Bradley Harewood, Max Heathman, Alfie North, Andy Berry, James Bourton
HT: 38-7
Results
Birmingham Moseley 24-43 Sale FC
Blackheath 17-29 Rams
Caldy 31-18 Bishop's Stortford
Cambridge 38-24 Taunton Titans
Chinnor 55-19 Rosslyn Park
Darlington Mowden Park 25-22 Plymouth Albion
Tonbridge Juddians 29-27 Leeds Tykes
National League 1 Table
Caldy draw 7 points clear of Sale FC
Sale FC have a game in hand still have to play Caldy
Cambridge leap frog Park as we slip to 4th
Leeds lose to relegated Tonbridge which will be good news for Blackheath
Cambridge Preview
Next week we play an inform Cambridge. They have had an impressive second half of the season and their late push for promotion sees them now in 3rd position.
Back in December we lost to them in a tight game that ended 29-34.
We will be looking to bounce back and a win would take us back above the side from Grantchester Road.