Match Report
Saturday 4 January 2020
Canterbury 5-38 Rosslyn Park
James Brooks honoured his father's Rosslyn Park legacy with a superb debut as the table-toppers put in a ruthless performance against Canterbury.
Kieran Power's men put six tries over as 2020 started with a bonus-point win at the Marine Travel Ground.
The home side made a bright start, threatening to break through Park's defensive line. But the London side played their game as Arthur Ellis drove over a maul from the 22-metre line after 12 minutes.
Tom Vaughan-Edwards added a second for the visitors in a déjà vu move 25 minutes later. And the half ended in style, working the ball to the left before Marfo sprinted through the gap.
The bonus point was secured four minutes after the restart – but Park were made to work for it.
Hugo Ellis picked up a loose ball before debutant Brooks, whose late dad Tony last played for Park 30 years ago, used a one-handed offload to find Craig Holland. Munro was the free man on the inside and punted the ball with his toe before sprawling onto it.
Ellis then got his 11th season try eight minutes, the visitors driving over another powerful maul before the captain pounced.
Canterbury got points through Tom Best's quick feet on the hour but Holland was quicker as he finished a lightning counter-attack four minutes later.
Canterbury
Tries: Best 60
Conversions:
Penalties:
Sin Bins:
Team (15-9/1-8): Dwayne Corcoran; Ricky Mackintosh, Sam Sterling (Aiden Moss 50), Tom Best, Jonathan Murray; Charlie Kingsman (Sterling 67), Kyan Braithwaite (Dan Smart 50); Billy Young, Tristan King (Sam Rogers 64), Alex Wake-Smith (Elliot Lusher 53); Royce Cadman, Alex Thompson; Jamie Stephens (Tyler Oliver 64), Sean Stapleton ©, Jack Rouse
Rosslyn Park
Tries: Ellis A 12, Vaughan-Edwards 27, Marfo 36, Munro 44, Ellis H 52, Holland 63
Conversions: Holland 13, 37, 45, 64
Penalties:
Sin Bins:
Team (15-9/1-8): Henry Robinson (Ben Howard 64); Benji Marfo, Nick Scott (Harry Leonard 6), Joe Munro, Neville Edwards; Craig Holland, James Brooks; Kyle Traynor, Tom Vaughan-Edwards (Gillanders 74), Stewart Maguire (Jake Buckingham 60); Sam Twomey, Gregor Gillanders (Henry Spencer 64); Dan Laventure, Arthur Ellis, Hugo Ellis © (Jack Barnard 53)
Attendance: 600
Referee: Callum Howard
HT: 0-19
Star Man: James Brooks – Rosslyn Park
Results
Bishop's Stortford 29-15 Birmingham Moseley
Canterbury 5-38 Rosslyn Park
Cinderford 3-8 Cambridge
Hull Ionians 7-54 Chinnor
Old Elthamians 28-21 Sale FC
Rams 27-17 Darlington Mowden Park
Richmond 19-8 Blackheath
Rotherham Titans 32-38 Plymouth Altbion
National League 1 table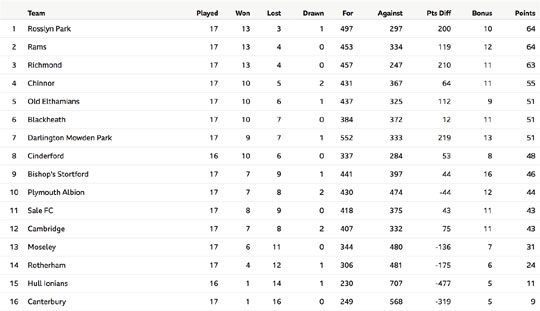 Rosslyn Park remain top of the table. They are joined by Rams on 64 points after their bonus wins but the London side's draw edges it.
Richmond were made to suffer for missing out on a bonus point, dropping to third.
Chinnor's huge win over Hull Ionians launches them up to fourth, nine points behind the leaders.
Old Elthamians secured a late bonus point to match losing Blackheath and Darlington Mowden Park on 51 points but their games drawn put them fifth.
Club and the league's most northern side drop to sixth and seventh respectively.
Cinderford also suffer from OE's success as they drop one place to eighth.
Bishop's Stortford's win cuts their deficit with the top half to two points while Plymouth Albion's comeback win earns a climb to 10th.
Sale slip down to 11thwhile Cambridge's battling win in Gloucestershire puts them level on 43 points.
Birmingham Moseley are now only eight points clear of the relegation zone after their loss to Stortford on 31 points.
Rotherham Titans, Ionians and Canterbury remain in the bottom three. The only change is the Yorkshire side's two bonus points.
Blackheath preview
Park head to Well Road for their fifth London derby this season as they take on Blackheath.
One of Park's oldest rivals suffered a blow in their clash against Richmond as they lost 19-8 at the Athletic Ground.
Club are the only team to beat Kieran Power's men at the Rock this season, winning 29-14 at the end of September.