Match Report
Saturday 1 February 2020
Rosslyn Park 50 - 19 Cambridge
Arthur Ellis's hat-trick saw Rosslyn Park hammer Cambridge in a ruthless second-half performance at The Rock.
Kieran Power's men only had a five-point lead at half time but four tries saw them charge through. And Rams' loss to Blackheath means Park climb up to second in National League 1.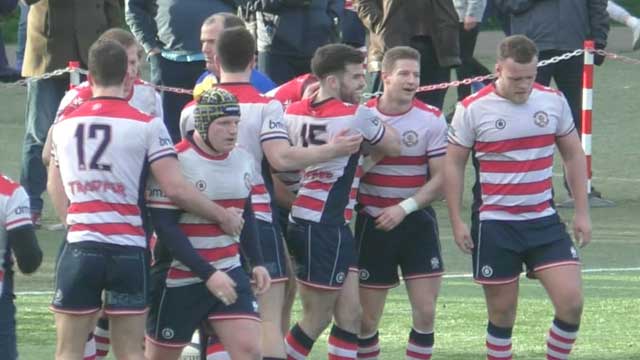 Cambridge were gifted the lead after 13 minutes as Nick Scott charged down a kick but rebounded it backwards. And Matt Dawson was free on the left wing to run clear, giving Park something to think about.
But the home side responded within five minutes, Arthur Ellis driving over the line after Park battered the defence. And the London side had the lead on the half-hour as Henry Cheeseman charged through four tackles to find the try zone.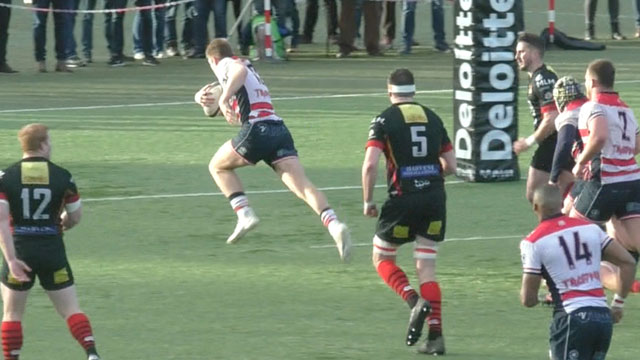 Hugo Ellis was the driving force behind the Park pack – and his command of the scrum saw them win a penalty try with a minute to half time.
Cambridge, though, benefitted from Cheeseman's sin-bin as Mike Mayhew jumped over from a lineout. But it was Park who attacked the second half despite the man disadvantage as Dan Laventure finished off a massive maul four minutes in.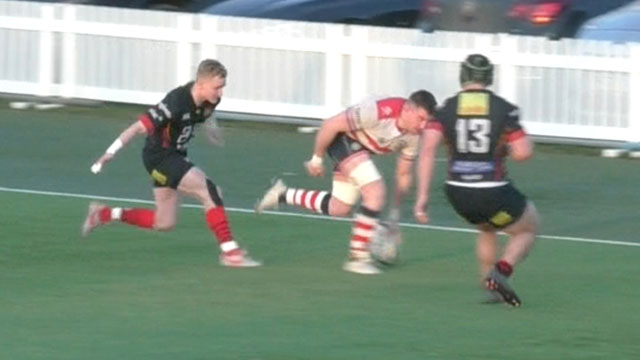 The day was paused, though, when Harry Leonard was forced off with an injury.
But Park did not lose any momentum in their attack, Cheeseman's return reigniting their constant flow of attack on the visitors. And Arthur Ellis was on hand to finish another set piece in the left corner for the home side.
The flanker secured his hat-trick by sprinting the ball away from Park's marauding pack, Greg Lound marking his return with a successful conversion.
Cambridge then allowed a series of mistakes to cut themselves short in attack, returning winger Andy Henderson getting a sin-bin. This was signified on 73 minutes, Dave Lewis' quick penalty allowing Scott to kick for Cheeseman to chase it into the left corner.
The visitors had a consolation two minutes later when substitute Fin Creighton found a gap. But Benji Marfo put the cherry on top, intercepting Matt Tarrant's long pass to run clean as Lound secured the half century.
Rosslyn Park
Tries: Ellis A 18, 53, 58 Cheeseman 30, 73 penalty 39, Laventure 44, Marfo 80
Conversions: Leonard 31, Lound, 59, 74, 80
Penalties:
Sin Bins: Cheeseman 39
Team (15-9/1-8): Henry Robinson; Benji Marfo, Henry Cheeseman, Joe Munro, Nick Scott; Harry Leonard (Greg Lound 47), Jack Gash (Dave Lewis 61); Kyle Traynor (Ali Wade 59), Ryan Roach, Stewart Maguire (Paul Doran-Jones 59); Sam Twomey, Gregor Gillanders; Dan Laventure, Arthur Ellis, Hugo Ellis © (Mike Kovacic 45)
Cambridge
Tries: Dawson 13, Mayhew 40, Creighton 77
Conversions: Penfold 7, 40
Penalties:
Sin Bins: Henderson 56
Team (15-9/1-8): Joe Tarrant; Joe Gatus, Matt Hema, Ned Brown, Andy Henderson; Ben Penfold (Lawrence Rayner 49), Kieran Duffin (Fin Creighton 49); Ben Ibrahim (Matt Meek 27), Will Priestley (Mike Mayhew 33), Jack Culverhouse (Ibrahim 61; Preistley 66)); George Bretag-Norris ©, Gary Baxter; Jake McCloud (James Tunney 51), Matt Dawson, Ben Adams (McCloud 71)
Attendance: 628
Referee: Dean Richards
HT: 19-14
Star Man: Arthur Ellis – Rosslyn Park
Results
Cinderford 10-25 Richmond
Old Elthamians 28-26 Darlington Mowden Park
Rams 18-31 Blackheath
Rotherham Titans 24-42 Chinnor
Sale 26-25 Plymouth Albion
Bishop's Stortford 40-22 Hull Ionians
Canterbury 13-29 Birmingham Moseley
Rosslyn Park 50-19 Cambridge
National League 1 table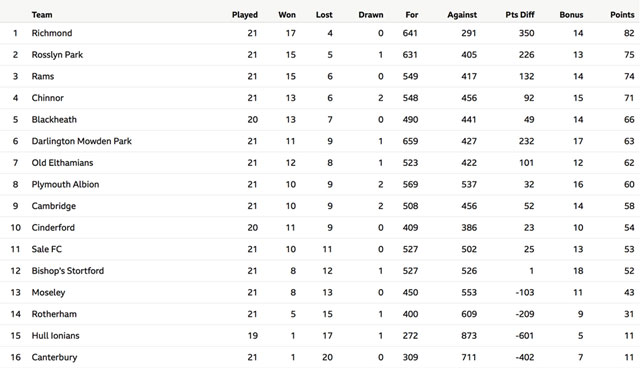 Richmond keep their place at the top of the table while their lead is extended to seven points.
Rosslyn Park's bonus-point hammering of Cambridge puts them second, pushing Rams one point below them.
Chinnor are eating away at the gap to the title race, now three points off the Reading side in fourth.
Blackheath's win at Old Bath Road keeps them fifth, stretching away from their mid-table rivals by three points.
Darlington Mowden Park got two bonus points at College Meadow but Old Elthamians' narrow win puts them one point and one place behind the north-easterners.
Plymouth Albion's reward for a one-point loss to Sale is staying in eighth place while Cambridge drop to ninth.
Cinderford remain six points off the top eight but have been caught up by the Heywood Road side and Bishop's Stortford, with two points between them all.
Birmingham Moseley's relegation battle continues to be delayed as a win against Canterbury increases the gap to 12 points.
Rotherham Titans, Hull Ionians and Canterbury occupy the bottom places, with the former Championship the only team to gain a bonus point.
Birmingham Moseley preview
Park face a trip to Billesley Common as they look to build a winning run against Birmingham Moseley.
The West Midlands side are flirting with relegation but saw off Canterbury 29-13 at the Marine Travel Ground.
It was a game of two halves in Park's last Birmingham trip, going into half-time 38-3 up before holding on for 45-27 last February.