Saturday 11 December 2021
Cambridge 34 Rosslyn Park 29
Rosslyn Park slipped to their second defeat of the season losing 34-29 to Cambridge at Volac Park. Tries from Nick Lovell, Nick Scott, Hugo Ellis and two from Brandon Jackson were not enough to overpower Cambridge. Cambridge scored tries through Joey Patrick, Matt Hema and two from Will Wand. They were also awarded a penalty try as well for their efforts.This is Park's first loss since Rams in October.
It was Park that started the brightest as an effective move from a Park line out saw Jackson race underneath the sticks. The away side hit back 13 minutes later as Wand found his way through the Park defence to score his first of the afternoon.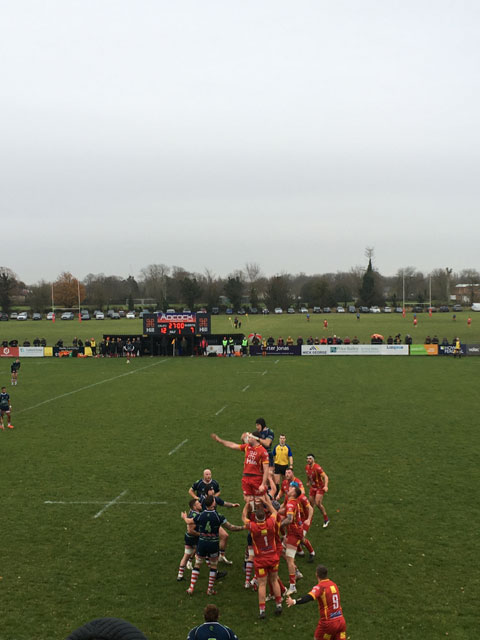 Park then found themselves trailing a bit as Hema spotted a gap in the Park defence to race away for Cambridge's second although the conversion was missed. Park needed a response before the break and they found it through Hugo Ellis who crashed over after effective build up play at the breakdown. A successful conversion from Craig Holland saw Park hold a two point lead at half time.
Park were blighted by an injury to Gregor Gillanders at half time, with Gillanders being replaced by Henry Spencer. The start of the second half saw Cambridge awarded a penalty after Austin Hay took out a man without the ball in open play. Hay was yellow carded and Marc Koteczky slotted the penalty. But Park weren't down for long as Jackson once again raced in for another score on the left wing.
However, Park's defence crumbled and Wand seized another opportunity to score his second of the afternoon. Park regained the lead soon after as Nick Scott crashed over after a long build up. It seemed that Park could start to apply more pressure to Cambridge but Patrick had other ideas after he intercepted a pass inside his own half, Park could do nothing to stop him. The conversion was missed with Park trailing by three.
Harry Leonard had the chance to bring the scores level but hooked his penalty wide. Things went from bad to worse for Park as Luke Baldwin was sin binned for back chat to the referee. Cambridge's afternoon was complete when Park collapsed the maul which gave the referee no choice to award a penalty try and put Arthur Ellis in the sin bin. Park had a consolation score through Lovell which meant that despite the loss, Park came away with two points.
Rosslyn Park
Tries: Jackson 4' 46 , Ellis 40' , Scott 56' , Lovell 80'
Conversions: Holland 5' 40'
Penalties:
Sin Bins: Hay 41' , Baldwin 71' , A Ellis 79'
Team (15-9/1-8): Ben Howard ,Benji Marfo , Nick Scott, Phil Cokanasiga, Brandon Jackson, Craig Holland, Luke Baldwin; Ollie Dawe , Charlie Piper, Austin Hay, Dylan Flashman,Gregor Gillanders, Dan Laventure, Arthur Ellis, Hugo Ellis (C)
Replacements: Sam Garvey, Nick Lovell, Henry Spencer, Jack Gash, Harry Leonard
Cambridge
Tries: Wand 18' 48' , Hema 24' , Patrick 60', Penalty Try 79'
Conversions: Koteczky 18' 49'
Penalties: Koteczky 42'
Sin Bins:
Team (15-9/1-8): Joe Green, Joey Patrick, Will Wand, Matt Hema, Andrew Henderson, Marc Koteczky, Kieran Duffin; Harry Moreley, Ben Brownlie, Billy Walker, Kieran Frost, Gareth Baxter, George Bretag-Norris, Matt Dawson, Ben Adams,
Replacements: Willie Priestly, Ziana Alexis, Anthony Mąką, Jake McCloud, Darryl Veenendaal
HT: 12-14
Results
Cambridge 34-29 Rosslyn Park
Caldy 20-3 Rams
Tonbridge Juddians 21-24 Taunton Titans
Blackheath 28- 34 Sale FC
Chinnor 19-23 Bishops Stortford
Darlington Mowden Park 26-7 Cinderford
Plymouth Albion P- P Leeds Tykes
National League 1 table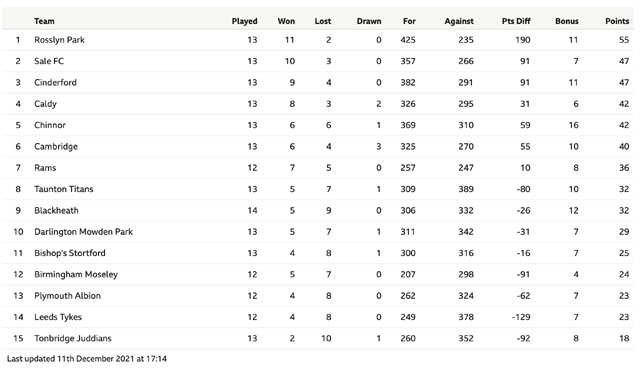 Rosslyn Park still hold an eight point lead at the top of the league despite the loss to Cambridge.
Cambridge overtake Rams who went down 20-3 at Paton Field to Caldy.
Cinderford slip to third after a 26-7 defeat to Darlington Mowden Park at the Northern Echo Arena.
Sale FC climb to second after defeating Blackheath away.
Chinnor suffered defeat to Bishops Stortford but still remain the only side in the league to get a bonus point from every game this season.
Albion v Tykes was postponed after a positive case in the Tykes camp with the RFU advising Tykes not to travel.
Tonbridge Juddians preview
Park's final game of 2021 will be at home to Tonbridge Juddians who defeated Taunton Titans at home.
Juddians find themselves back in the league after getting promoted during the 19/20 season along with Taunton.