Blackheath 31 24 Rosslyn Park
Saturday 26th March 2022
By George Havord
Park's promotion bid took a huge blow with a surprise defeat to relegation threatened Blackheath. It was a bitterly disappointing afternoon for Park who could not get to grips with the home side's intensity in the first half, going into the break 24-5 down.
Director of Rugby Kieran Power said: 'We didn't turn up in the second half. We didn't pull any punches. The group weren't doing as they were told on how to play the game'.
Park were not able to get out of first gear in the opening 40 minutes as Blackheath turned the screw, coming out with roaring intensity as they were pushed on by their vocal home support.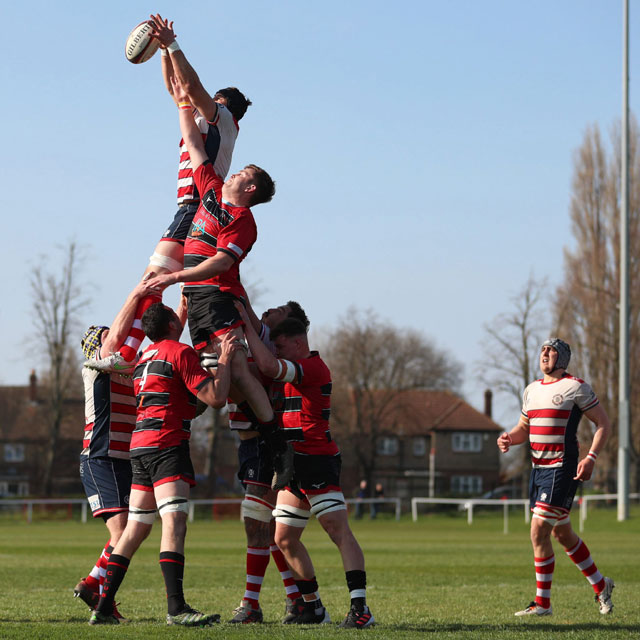 The game was only two minutes through when Blackheath got their first try. The home side won a penalty electing to scrum. Moving to the blindside of the scrum they caught the Park defence off guard and the ball was passed to winger Jake Lloyd who ran over.
However Park responded well. Executing a clean line-out with the throw going to the jumper without a lift, the pack then drove over in the corner. Jared Saunders with the ball in hand to get the credit.
The second part of the first half is where Blackheath really capitalised and took the game away from Park with three tries in fifteen minutes.
The first of the three must have really annoyed the Park coaches. A loose pass allowed Harry Holland to snatch the ball. The flanker turned on the burners and touched over.
On the 31st minute a clever short line-out from Blackheath and then some nice interplay between the hooker and the front man in the line-out takes the ball down to the 5 metre line. Blackheath spread it wide to the opposite corner and Jake Lloyd put the finishing touches to the move.
Park went into the half 24-5 down. One can only imagine what coaches Kieran Power and Jon Mills were saying in the dressing room.
However whatever they said must have worked. Hugo Ellis came off the bench and scored instantly as Park gain some belief with an early try.
Although it was in the 50th minute that Blackheath got their 5th and ultimately decisive try. Lloyd beat his man in a 1 on 1 and the speedy winger ran away to take the score to 31-17.
The next 20 minutes was consistent with Park pressure. A few penalties given away deep in Blackheath's territory gave them a chance to clear, and most importantly run the clock down.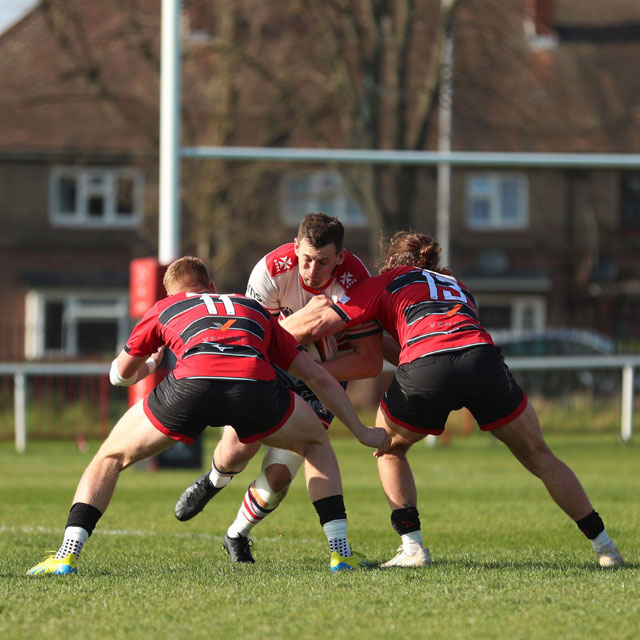 With five minutes remaining Park eventually capitalised on their dominance. A strong scrum marched Blackheath back inside their own 5 metres. Dave Lewis darted in to get us a four try bonus point.
The final few moments were agonising and intense as we pushed for to get the score level. Park were camped inside Blackheath's half trying to find a breakthrough. However some outstanding defensive play from Blackheath meant that Quinten Koster was driven out of play. The home side were able to grind out the final minute, ending a run of six games without a win.
It was a game of two halfs with Blackheath's half being more profitable. The side from Well Hall have beaten Park in 4 out of their last 6 games.
A devastating defeat against a team Park were expected to beat. However with a game in hand on Caldy and only five points behind, promotion is still in our own hands. Just!
Rosslyn Park
Tries: Saunders 10', H. Ellis 41', 75', Lewis 51'
Conversions: Holland 51', 75'
Penalties:
Sin Bins:
Team (15-9/1-8): Henry Robinson, Nick Scott, Henry Cheeseman, Quinten Koster, Benji Marfo, Craig Holland, Jack Gash, Kyle Trainor, Jared Saunders, Stewart Maguire, Dylan Flashman, Jamie Gray, Henry Spencer, Arthur Ellis, Dan Laventure
Replacements: Sam Garvey, Charlie Piper, Hugo Ellis, Dave Lewis, Luc Smith
Blackheath
Tries: Lloyd 3', 50', Holland 23', Foster 31', 39'
Conversions: Gabbitass 3', 23', 50'
Penalties:
Sin Bins: Dugmore 73'
Team (15-9/1-8): Nick Foster, Jake Lloyd, Spencer, Markus Burcham, Marcus Kershaw, Freddie Gabbitass, Dan Hiscocks, Tom Williams, Oliver Walliker, Matt Collins, Dominic McGeenkie, Ed Taylor, Harry Holland, Andy Denham, Harry Dugmore
Replacements: Mitchell, Andrew-Nathan Boye, James Newey, Ollie Claxton, Daly Aremu
HT: 24-5
Results
Darlington Mowden Park 22-20 Tonbridge Juddians
Blackheath 31-24 Rosslyn Park
Caldy 52-31 Taunton Titans
Cambridge 48-24 Plymouth Albion
Chinnor 36-27 Leeds Tykes
Cinderford 38-17 Rams
Birmingham Moseley 17-29 Bishop's Stortford
National League 1 Table
Caldy draw 5 points clear of Park however we have a game in hand
With Sale FC not playing this week Cambridge kept up the pressure on the top 2 with their 5 point victory
Cinderford as well keeping their faint hopes alive taking all 5 against Rams.
Blackheath take a huge step to safety and are now 9 points clear of Leeds Tykes. However Leeds have 3 games in hand.
Caldy Preview
It's the big one next week. We face top of the table Caldy in what Captain Hugo Ellis described as a must win game.
We beat Caldy in the reverse fixture last November with 20-26 win against the team from Merseyside. That was one of their three losses this season.