Match Report
Saturday 11 January 2020
Blackheath 27-22 Rosslyn Park
Markus Burcham's deep-running try proved a mountain too high for Rosslyn Park as they succumbed to a narrow defeat against Blackheath at Well Hall.
Craig Holland and Billy Harding put the visitors ahead twice but Club responded twice to nick the London derby by five points. And it saw Park drop to third in National League One as title rivals Richmond and Rams both secured wins.
Club came out of the blocks fast, peppering the defence with deep runs as well as kick and drives. And they earned a penalty after six minutes – but the wind dragged Mark Cooke's kick across the front of the posts.
But they got the breakthrough after three minutes later, drawing Park into a maul on the right before Jake Lloyd found space under the posts. Park responded within eight minutes as Tom Vaughan-Edwards and Sam Twomey worked a quick line-out, catching Club napping.
James Shanahan's side did not stop pushing, though, and used the same tactic for Ben Ransom to run clear on 24 minutes.
Holland got Park within four points of Club at half time, kicking a penalty from the 22-metre line. And the No.10 dragged his side into the lead, chasing down Cooke's kick from his own half and landing on the loose ball in the try zone after 46 minutes.
Club responded by pitching camp in the opposition half for 10 minutes. They broke through with Tom Burns, driving into a gap for the home side's third try of the day.
And the game turned once again through debutant Harding. The hooker threw a line-out to Twomey before finishing it in the left corner, sending Park fans wild.
But it only lasted seven minutes as a breathless Club attack saw captain Burcham side-step his way to the try-line and a bonus point.
Henry Robinson, making his 100th appearance for Park, came close to finding the line with an incredible run but was cut short.
And Cooke put salt in the visitors' wounds as he kicked a penalty with three minutes to go, consigning them to a first defeat in five games.
Blackheath
Tries: Lloyd 9, Ransom 24, Burns 56, Burcham 67
Conversions: Cooke 10, 68
Penalties: Cooke 77
Sin Bins:
Team (15-9/1-8): Leo Fielding (Nick Foster 62); Jake Lloyd, Henry Staff, Markus Bucham ©, Ben Ransom; Mark Cooke, Stef Leibenberg; Tom Williams, Mike Perks (Harry Fry 68), Danny Herriott (Harry Seward 68); James Catt, Tom Stradwick; Freddie Owen, Tom Baldwin (Josh Poole 65), Tom Burns
Replacements: Dan Hiscocks
Rosslyn Park
Tries: Twomey 17, Holland 46, Harding 60
Conversions: Holland 47, 61
Penalties: Holland 33
Sin Bins:
Team (15-9/1-8): Henry Robinson; Benji Marfo, Rhys Crane, Joe Munro, Neville Edwards (Harry Leonard 48); Craig Holland, Dave Lewis (Jack Gash 63); Kyle Traynor, Tom Vaughan-Edwards (Billy Harding 48), Ali Wade; Sam Twomey, Gregor Gillanders; Dan Laventure, Arthur Ellis (James Freeman 57), Hugo Ellis ©
Replacements: Jake Buckingham
Attendance: 500
Referee: Dr Jonathan Cook
HT: 12-8
Star Man: Stef Leibenberg - Blackheath
Results
Chinnor 17-21 Rams
Cambridge 25-21 Rotherham Titans
Sale 33-14 Blackheath
Blackheath 27-22 Rosslyn Park
Darlington Mowden Park 26-19 Bishop's Stortford
Birmingham Moseley 33-15 Cinderford
Plymouth Albion 21-10 Old Elthamians
Richmond 86-7 Hull Ionians
National League 1 table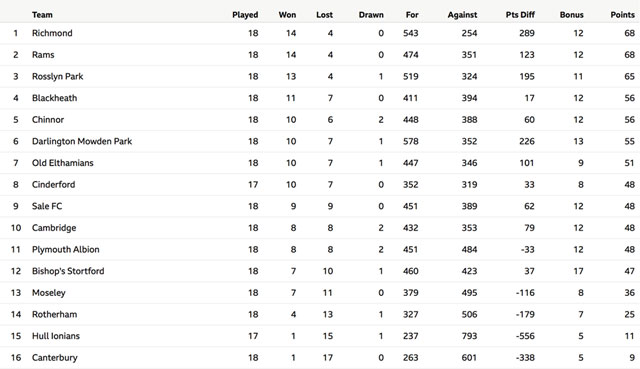 Richmond's 14-try haul against Hull Ionians sends them top of the table, leapfrogging Rams and Rosslyn Park. The Reading side missed out on a bonus point against Chinnor, keeping them second.
Park's bonus-point loss to London rivals Blackheath puts them three points behind their title rivals.
Club propel themselves into fourth, level on points with Chinnor but overtake them for fourth on games won.
Darlington Mowden Park's second-half display sends them sixth, one point behind Blackheath and Chinnor.
Old Elthamians drop two places to seventh after defeat in the south west.
Cinderford remain in eighth but a shock defeat to Rotherham Titans sees them joined on 48 points by Sale, Cambridge and Plymouth Albion.
The Manchester side's bonus-point over bottom side Blackheath pushes them to ninth and the Volac Park side go 10th.
Despite a three-try win over OEs, Albion drop to 11th on account of points difference.
Bishop's Stortford suffer from the shift as their loss in the north east drops them three places to 12th.
Birmingham Moseley increase their cushion from the relegation zone to 11 points after victory in Gloucestershire.
Titans, Ionians and Blackheath remain the bottom side. The Yorkshire side gain a bonus point while the two bottom sides stay fixed.
Sale preview
Park take on National League 1 climbers Sale in their first 2020 game at the Rock.