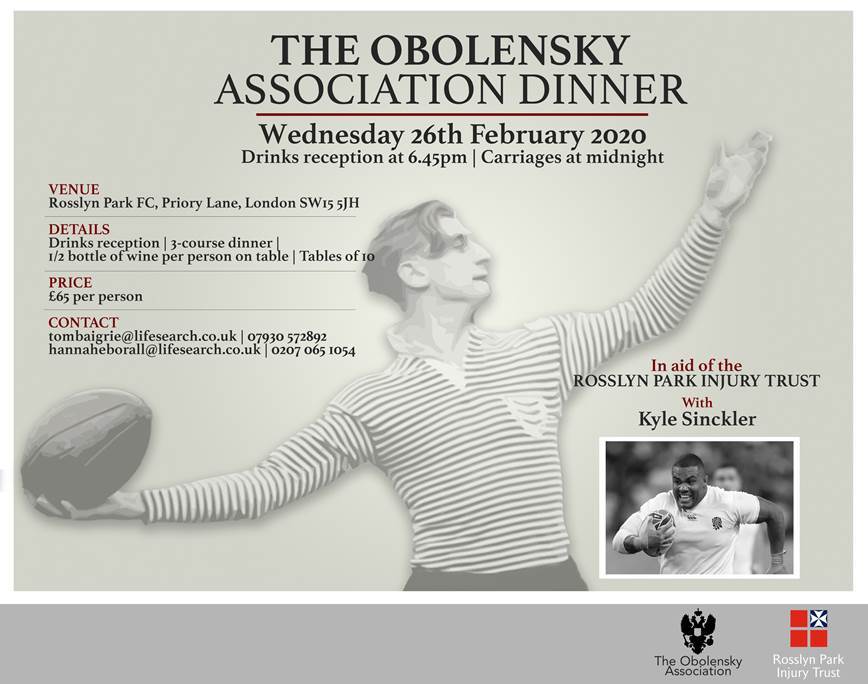 Hi Loyal Obo Supporter
Please do let Hannah know how many tables or seats you'd like. I'd suggest being swift indeed as we'd expect this one to sell out fast.
Roll up Roll Up.
Best wishes
Tom & Hannah
PS If any of you have things we could auction, you know: trips on private jets; weeks in holiday homes; days shootin' or fishin'; debenture or other tickets, Jason Leonard's signed jock strap, PLEASE do let us know. The Sports Injury Trust and Rosslyn Park would be ever so grateful.
Hannah Eborall: hannaheborall@lifesearch.co.uk
Tom Baigrie tombaigrie@lifesearch.co.uk
The dinner is held in memory of Prince Obolensky, the flying Park winger, and provides a wonderful way for members from every section of the club to meet and celebrate all that is great about our game. A major club social, the funds raised help to support many different facets of Rosslyn Park Football Club.
The dinner supports The Rosslyn Park Sports Injury Trust
If you have a moment: "That Obolensky Try" against the All Blacks is on You Tube here .
For further information on The Prince Obolensky Association visit the website: www.obolensky.org.